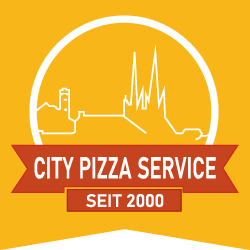 City Pizza Saalfeld
Pößnecker Str. 33
Alkoholfreie Getränke (4)
Alkoholische Getränke (6)
Salate 12 items
152 Gemischter Salat
8,49 €
154 Thunfischsalat
gemischter Salat mit Ei, Thunfisch, Oliven und Artischocken
8,49 €
158 Italienischer Salat
9,49 €
159 Mexikanischer Salat
gemischter Salat mit Schinken, Oliven, Bohnen, Mais, Käse, Ei und Peperoni
9,49 €
160 Salat ala City
gemischter Salat mit Oliven, Bohnen, Ei, Hirtenkäse, Shrimps und Peperoni
9,49 €
161 Tomatensalat
gemischter Salat mit Tomaten, Basilikum und Mozzarella
9,49 €
163 Salat Meeresfrüchte
gemischter Salat mit Meeresfrüchten
9,49 €
166 Salat Acrobaleno
gemischter Salat mit Hähnchenfleisch, Pilzen, Zwiebeln, Ei und Oliven
9,49 €
166a Döner Salat
gemischter Salat mit Dönerfleisch und Zwiebeln
9,49 €
168a Salat Formaggi
gemischter Salat mit Goudawürfeln, Mozzarella, Hirtenkäse, Bohnen und Ei
9,49 €
168b Salat Onion Rings
gemischter Salat mit Bohnen, gegrilltem Hähnchenfleisch und gebackenen Zwiebelringen
9,49 €
168c Salat Nachos
gemischter Salat mit Bohnen, gebratenen Hähnchenschnitzelstreifen und gebackenen Nachos
9,49 €
Pizza 54 items
10 Pizza Margherita
Klein(Ø26cm) 7,99 € | Groß(Ø30cm) 8,99 € | Family(46cmx33cm) 19,90 € | Party(60cmx40cm) 25,90 €
7,99 €
11 Pizza mit Salami
Klein(Ø26cm) 8,99 € | Groß(Ø30cm) 9,99 € | Family(46cmx33cm) 21,90 € | Party(60cmx40cm) 28,90 €
8,99 €
11a Pizza mit Peperoniwurst (pikant)
Klein(Ø26cm) 8,99 € | Groß(Ø30cm) 9,99 € | Family(46cmx33cm) 21,90 € | Party(60cmx40cm) 28,90 €
8,99 €
12 Pizza mit Schinken
Klein(Ø26cm) 8,99 € | Groß(Ø30cm) 9,99 € | Family(46cmx33cm) 21,90 € | Party(60cmx40cm) 28,90 €
8,99 €
13 Pizza mit Champignons
Klein(Ø26cm) 8,99 € | Groß(Ø30cm) 9,99 € | Family(46cmx33cm) 21,90 € | Party(60cmx40cm) 28,90 €
8,99 €
14 Pizza mit Knoblauch, Zwiebeln
Klein(Ø26cm) 8,99 € | Groß(Ø30cm) 9,99 € | Family(46cmx33cm) 21,90 € | Party(60cmx40cm) 28,90 €
8,99 €
15 Pizza mit Thunfisch
Klein(Ø26cm) 8,99 € | Groß(Ø30cm) 9,99 € | Family(46cmx33cm) 21,90 € | Party(60cmx40cm) 28,90 €
8,99 €
16 Pizza mit Bolognese
Klein(Ø26cm) 8,99 € | Groß(Ø30cm) 9,99 € | Family(46cmx33cm) 21,90 € | Party(60cmx40cm) 28,90 €
8,99 €
17 Pizza mit Sardellen
Klein(Ø26cm) 8,99 € | Groß(Ø30cm) 9,99 € | Family(46cmx33cm) 21,90 € | Party(60cmx40cm) 28,90 €
8,99 €
18a Pizza mit Spaghetti Napoli
Klein(Ø26cm) 9,99 € | Groß(Ø30cm) 10,99 € | Family(46cmx33cm) 23,90 € | Party(60cmx40cm) 30,90 €
9,99 €
18b Pizza mit Spaghetti Bolognese
Klein(Ø26cm) 9,99 € | Groß(Ø30cm) 10,99 € | Family(46cmx33cm) 23,90 € | Party(60cmx40cm) 30,90 €
9,99 €
18c Pizza mit Spaghetti Carbonara
Klein(Ø26cm) 9,99 € | Groß(Ø30cm) 10,99 € | Family(46cmx33cm) 23,90 € | Party(60cmx40cm) 30,90 €
9,99 €
19 Pizza mit Salami, Schinken
Klein(Ø26cm) 9,99 € | Groß(Ø30cm) 10,99 € | Family(46cmx33cm) 23,90 € | Party(60cmx40cm) 30,90 €
9,99 €
20 Pizza mit Salami Champignons
Klein(Ø26cm) 9,99 € | Groß(Ø30cm) 10,99 € | Family(46cmx33cm) 23,90 € | Party(60cmx40cm) 30,90 €
9,99 €
21 Pizza mit Schinken, Champignons
Klein(Ø26cm) 9,99 € | Groß(Ø30cm) 10,99 € | Family(46cmx33cm) 23,90 € | Party(60cmx40cm) 30,90 €
9,99 €
22 Pizza mit Thunfisch und Zwiebeln
Klein(Ø26cm) 9,99 € | Groß(Ø30cm) 10,99 € | Family(46cmx33cm) 23,90 € | Party(60cmx40cm) 30,90 €
9,99 €
23 Pizza mit Schinken und Ananas
Klein(Ø26cm) 9,99 € | Groß(Ø30cm) 10,99 € | Family(46cmx33cm) 23,90 € | Party(60cmx40cm) 30,90 €
9,99 €
23a Pizza mit Spinat und Hirtenkäs
Klein(Ø26cm) 9,99 € | Groß(Ø30cm) 10,99 € | Family(46cmx33cm) 23,90 € | Party(60cmx40cm) 30,90 €
9,99 €
23b Pizza mit Spinat und Gorgonzola
Klein(Ø26cm) 9,99 € | Groß(Ø30cm) 10,99 € | Family(46cmx33cm) 23,90 € | Party(60cmx40cm) 30,90 €
9,99 €
24 Pizza mit Salami, Schinken,Champignons
Klein(Ø26cm) 10,49 € | Groß(Ø30cm) 11,49 € | Family(46cmx33cm) 24,90 € | Party(60cmx40cm) 32,90 €
10,49 €
25 Pizza mit Salami, Bolognese, Schinken
Klein(Ø26cm) 10,49 € | Groß(Ø30cm) 11,49 € | Family(46cmx33cm) 24,90 € | Party(60cmx40cm) 32,90 €
10,49 €
26 Pizza mit Salami, Champignons, bolognese
Klein(Ø26cm) 10,49 € | Groß(Ø30cm) 11,49 € | Family(46cmx33cm) 24,90 € | Party(60cmx40cm) 32,90 €
10,49 €
27 Pizza mit Schinken, Bolognese, Champignons
Klein(Ø26cm) 10,49 € | Groß(Ø30cm) 11,49 € | Family(46cmx33cm) 24,90 € | Party(60cmx40cm) 32,90 €
10,49 €
28 Pizza mit Schinken, Sargel, Ei
Klein(Ø26cm) 10,49 € | Groß(Ø30cm) 11,49 € | Family(46cmx33cm) 24,90 € | Party(60cmx40cm) 32,90 €
10,49 €
29 Pizza mit Schinken Zwiebel und Ei
Klein(Ø26cm) 10,49 € | Groß(Ø30cm) 11,49 € | Family(46cmx33cm) 24,90 € | Party(60cmx40cm) 32,90 €
10,49 €
32a Pizza mit Spinat, Zwiebel, Ei
Klein(Ø26cm) 10,49 € | Groß(Ø30cm) 11,49 € | Family(46cmx33cm) 24,90 € | Party(60cmx40cm) 32,90 €
10,49 €
32b Pizza mit Broccoli, Spinat, Zwibeln
Klein(Ø26cm) 10,49 € | Groß(Ø30cm) 11,49 € | Family(46cmx33cm) 24,90 € | Party(60cmx40cm) 32,90 €
10,49 €
32c Pizza mit Broccoli, Mozzarella, Spinat
Klein(Ø26cm) 10,49 € | Groß(Ø30cm) 11,49 € | Family(46cmx33cm) 24,90 € | Party(60cmx40cm) 32,90 €
10,49 €
33 Pizza mit Salami, Schinken, Champignons und bolognese
Klein(Ø26cm) 10,99 € | Groß(Ø30cm) 11,99 € | Family(46cmx33cm) 25,90 € | Party(60cmx40cm) 33,90 €
10,99 €
33a Pizza mit Salami, Schinken, Champignons, Zwiebeln
Klein(Ø26cm) 10,99 € | Groß(Ø30cm) 11,99 € | Family(46cmx33cm) 25,90 € | Party(60cmx40cm) 33,90 €
10,99 €
34 Pizza mit Schinken,Salami, Champignons, Peperoni
Klein(Ø26cm) 10,99 € | Groß(Ø30cm) 11,99 € | Family(46cmx33cm) 25,90 € | Party(60cmx40cm) 33,90 €
10,99 €
35 Pizza mit Schinken, Peperoni, Zwiebeln, Oliven
Klein(Ø26cm) 10,99 € | Groß(Ø30cm) 11,99 € | Family(46cmx33cm) 25,90 € | Party(60cmx40cm) 33,90 €
10,99 €
36 Pizza mit Schinken, Broccoli, Mozzarella
Klein(Ø26cm) 10,99 € | Groß(Ø30cm) 11,99 € | Family(46cmx33cm) 25,90 € | Party(60cmx40cm) 33,90 €
10,99 €
37 Pizza Vier Jahreszeiten
mit Salami, Schinken, Paprika und Champignons
Klein(Ø26cm) 10,99 € | Groß(Ø30cm) 11,99 € | Family(46cmx33cm) 25,90 € | Party(60cmx40cm) 33,90 €
10,99 €
38 Pizza mit Hackfleisch, Mais,Knoblauch, Zwiebeln, Peperoni, Bohnen
Klein(Ø26cm) 10,99 € | Groß(Ø30cm) 11,99 € | Family(46cmx33cm) 25,90 € | Party(60cmx40cm) 33,90 €
10,99 €
39 Pizza mit Salami, Schinken, Champignons, Peperoni und Oliven
Klein(Ø26cm) 10,99 € | Groß(Ø30cm) 11,99 € | Family(46cmx33cm) 25,90 € | Party(60cmx40cm) 33,90 €
10,99 €
40 Pizza mit Salami, Schinken, Champignons, Zwiebeln und Bolognese
Klein(Ø26cm) 10,99 € | Groß(Ø30cm) 11,99 € | Family(46cmx33cm) 25,90 € | Party(60cmx40cm) 33,90 €
10,99 €
41 Pizza mit Salami, Schinken, Artischocken, Oliven und Knoblauch
Klein(Ø26cm) 10,99 € | Groß(Ø30cm) 11,99 € | Family(46cmx33cm) 25,90 € | Party(60cmx40cm) 33,90 €
10,99 €
42 Pizza mit Salami, Paprika, Sardellen, Bolognese und Peperoni
Klein(Ø26cm) 10,99 € | Groß(Ø30cm) 11,99 € | Family(46cmx33cm) 25,90 € | Party(60cmx40cm) 33,90 €
10,99 €
43 Vegetarische Pizza
mit Gemüse der Saison
Klein(Ø26cm) 10,99 € | Groß(Ø30cm) 11,99 € | Family(46cmx33cm) 25,90 € | Party(60cmx40cm) 33,90 €
10,99 €
44 Calzone
mit Salami, Schinken, Bolognese, Paprika und Champignons
Klein(Ø26cm) 10,99 € | Groß(Ø30cm) 11,99 €
10,99 €
45 Calzone Vegetarisch
mit frischem Gemüse der Saison
Klein(Ø26cm) 11,99 € | Groß(Ø30cm) 12,99 € | Family(46cmx33cm) 26,90 € | Party(60cmx40cm) 34,90 €
11,99 €
46 Pizza mit Meeresfrüchte und Knoblauch
Klein(Ø26cm) 11,99 € | Groß(Ø30cm) 12,99 € | Family(46cmx33cm) 26,90 € | Party(60cmx40cm) 34,90 €
11,99 €
48 Pizza mit Tomatenscheiben, Oliven, Mozzarella und Basilikum
Klein(Ø26cm) 11,99 € | Groß(Ø30cm) 12,99 € | Family(46cmx33cm) 26,90 € | Party(60cmx40cm) 34,90 €
11,99 €
50 Pizza Quattro Formaggi
mit Mozzarella, Parmesan, Gouda und Gorgonzola
Klein(Ø26cm) 11,99 € | Groß(Ø30cm) 12,99 € | Family(46cmx33cm) 26,90 € | Party(60cmx40cm) 34,90 €
11,99 €
50a Pizza mit Hühnerfleisch, Paprika, Zwiebeln
Klein(Ø26cm) 11,99 € | Groß(Ø30cm) 12,99 € | Family(46cmx33cm) 26,90 € | Party(60cmx40cm) 34,90 €
11,99 €
50b Pizza Gyros
mit Schweinefleisch, Paprika und Zwiebeln
Klein(Ø26cm) 11,99 € | Groß(Ø30cm) 12,99 € | Family(46cmx33cm) 26,90 € | Party(60cmx40cm) 34,90 €
11,99 €
52 Pizza Alla City
mit Salami, Schinken, Champignons, Zwiebeln und Knoblauch
Klein(Ø26cm) 11,99 € | Groß(Ø30cm) 12,99 € | Family(46cmx33cm) 26,90 € | Party(60cmx40cm) 34,90 €
11,99 €
53 Pizza Alla Rustica
mit Bolognese, Schinken, Kapern, Peperoni, Champignons, Artischocken und Sardellen
Klein(Ø26cm) 11,99 € | Groß(Ø30cm) 12,99 € | Family(46cmx33cm) 26,90 € | Party(60cmx40cm) 34,90 €
11,99 €
54 Pizza Chef
mit Thunfisch, Zwiebeln, Champignons, Paprika und Peperoni
Klein(Ø26cm) 11,99 € | Groß(Ø30cm) 12,99 € | Family(46cmx33cm) 26,90 € | Party(60cmx40cm) 34,90 €
11,99 €
55 Fladenbrot
Klein(Ø26cm) 4,49 € | Groß(Ø30cm) 4,99 €
4,49 €
55a Pizzabrot mit Tomatensoße
Klein(Ø26cm) 4,49 € | Groß(Ø30cm) 4,99 €
4,49 €
57 Pizza Döner Pizza
mit Dönerfleisch und Zwiebeln
Klein(Ø26cm) 11,99 € | Groß(Ø30cm) 12,99 € | Family(46cmx33cm) 29,90 € | Party(60cmx40cm) 35,90 €
11,99 €
58 Pizza Döner Spezial
mit Dönerfleisch, Zwiebeln, Oliven und Peperoni
Klein(Ø26cm) 11,99 € | Groß(Ø30cm) 12,99 € | Family(46cmx33cm) 29,90 € | Party(60cmx40cm) 35,90 €
11,99 €
Amerikanische Pizza 20 items
61 Pizza Manhattan
mit Salami
Klein(Ø26cm) 11,99 € | Groß(Ø30cm) 13,99 € | Family(46cmx33cm) 24,99 € | Party(60cmx40cm) 29,99 €
11,99 €
61a Pizza Amargherita
mit Käse
Klein(Ø26cm) 11,99 € | Groß(Ø30cm) 13,99 € | Family(46cmx33cm) 24,99 € | Party(60cmx40cm) 29,99 €
11,99 €
62 Pizza Queen
mit Schinken, Champignons und Knoblauch
Klein(Ø26cm) 11,99 € | Groß(Ø30cm) 13,99 € | Family(46cmx33cm) 24,99 € | Party(60cmx40cm) 29,99 €
11,99 €
63 Pizza American
mit Salami und Paprika
Klein(Ø26cm) 11,99 € | Groß(Ø30cm) 13,99 € | Family(46cmx33cm) 24,99 € | Party(60cmx40cm) 29,99 €
11,99 €
64 Pizza Vegetarisch
mit Paprika, Zwiebeln, Champignons, milder Peperoni, Broccoli, Blumenkohl und Hirtenkäse
Klein(Ø26cm) 12,99 € | Groß(Ø30cm) 14,99 € | Family(46cmx33cm) 29,99 € | Party(60cmx40cm) 35,99 €
12,99 €
65 Pizza Hawaii
mit Schinken, Ananas und extra Käse
Klein(Ø26cm) 12,99 € | Groß(Ø30cm) 14,99 € | Family(46cmx33cm) 29,99 € | Party(60cmx40cm) 35,99 €
12,99 €
65a Pizza Chicago
mit Schinken, Salami, Champignons und extra Käse
Klein(Ø26cm) 12,99 € | Groß(Ø30cm) 14,99 € | Family(46cmx33cm) 29,99 € | Party(60cmx40cm) 35,99 €
12,99 €
65b Pizza Mexico
mit Mais, Salami, Paprika, Zwiebeln und mexikanischer Sauce
Klein(Ø26cm) 12,99 € | Groß(Ø30cm) 14,99 € | Family(46cmx33cm) 29,99 € | Party(60cmx40cm) 35,99 €
12,99 €
65c Pizza Bombay
mit Hühnerfleisch, Ananas, Curry und extra Käse
Klein(Ø26cm) 12,99 € | Groß(Ø30cm) 14,99 € | Family(46cmx33cm) 29,99 € | Party(60cmx40cm) 35,99 €
12,99 €
66 Pizza Spezial
mit Schinken, Salami, Zwiebeln, Paprika, Champignons, schwarzen Oliven, Peperoni und extra Käse
Klein(Ø26cm) 12,99 € | Groß(Ø30cm) 14,99 € | Family(46cmx33cm) 29,99 € | Party(60cmx40cm) 35,99 €
12,99 €
67 Pizza Golden gate Bridge
mit Schinken, Salami, Paprika und Ei
Klein(Ø26cm) 12,99 € | Groß(Ø30cm) 14,99 € | Family(46cmx33cm) 29,99 € | Party(60cmx40cm) 35,99 €
12,99 €
68 Pizza Atlantic
mit Hackfleisch, Hähnchenbrustfilet, Broccoli und Mais
Klein(Ø26cm) 12,99 € | Groß(Ø30cm) 14,99 € | Family(46cmx33cm) 29,99 € | Party(60cmx40cm) 35,99 €
12,99 €
69 Pizza Miami Beach
mit Hähnchen, Broccoli und Curry
Klein(Ø26cm) 12,99 € | Groß(Ø30cm) 14,99 € | Family(46cmx33cm) 29,99 € | Party(60cmx40cm) 35,99 €
12,99 €
69a Pizza Las Vegas
mit Schinken, Champignons, Speck, Ei und Knoblauch
Klein(Ø26cm) 12,99 € | Groß(Ø30cm) 14,99 € | Family(46cmx33cm) 29,99 € | Party(60cmx40cm) 35,99 €
12,99 €
69b Pizza Hollywood
mit Salami, Zwiebeln, Hackfleisch und Ei
Klein(Ø26cm) 12,99 € | Groß(Ø30cm) 14,99 € | Family(46cmx33cm) 29,99 € | Party(60cmx40cm) 35,99 €
12,99 €
69c Pizza Indianer
mit Salami, Schinken, Broccoli und Mais
Klein(Ø26cm) 12,99 € | Groß(Ø30cm) 14,99 € | Family(46cmx33cm) 29,99 € | Party(60cmx40cm) 35,99 €
12,99 €
70 Pizza Santa cruze
mit Bolognese, Knoblauch, Schinken und Spaghetti
Klein(Ø26cm) 12,99 € | Groß(Ø30cm) 14,99 € | Family(46cmx33cm) 29,99 € | Party(60cmx40cm) 35,99 €
12,99 €
73 Pizza Ameet
mit Currywurst, Curryketchup und Zwiebeln
Klein(Ø26cm) 12,99 € | Groß(Ø30cm) 14,99 € | Family(46cmx33cm) 29,99 € | Party(60cmx40cm) 35,99 €
12,99 €
74 Pizza New York
mit Wiener Wurst, Barbecuesauce, sauren Gurken und roten Zwiebeln
Klein(Ø26cm) 12,99 € | Groß(Ø30cm) 14,99 € | Family(46cmx33cm) 29,99 € | Party(60cmx40cm) 35,99 €
12,99 €
74a Pizza Angad
mit Hähnchen, Sweet-Chilisauce, Paprika und Mais
Klein(Ø26cm) 12,99 € | Groß(Ø30cm) 14,99 € | Family(46cmx33cm) 29,99 € | Party(60cmx40cm) 35,99 €
12,99 €
Pizza Hollandaise 4 items
301 Pizza Holland
Klein(Ø26cm) 11,99 € | Groß(Ø30cm) 13,99 € | Family(46cmx33cm) 28,99 € | Party(60cmx40cm) 34,99 €
11,99 €
302 Pizza Holland Spezial
Klein(Ø26cm) 11,99 € | Groß(Ø30cm) 13,99 € | Family(46cmx33cm) 28,99 € | Party(60cmx40cm) 34,99 €
11,99 €
303 Pizza Rotterdam
Klein(Ø26cm) 12,99 € | Groß(Ø30cm) 14,99 € | Family(46cmx33cm) 30,99 € | Party(60cmx40cm) 36,99 €
12,99 €
304 Pizzza Amsterdam
Klein(Ø26cm) 12,99 € | Groß(Ø30cm) 14,99 € | Family(46cmx33cm) 30,99 € | Party(60cmx40cm) 36,99 €
12,99 €
Pizza Neuheiten 16 items
N1 Pizza Barbeuce und Bacon
mit knusprigem Bacon, Barbecue, Gouda, Rinderhack und roten Zwiebeln
Klein(Ø26cm) 12,99 € | Groß(Ø30cm) 14,99 € | Family(46cmx33cm) 29,99 € | Party(60cmx40cm) 35,99 €
12,99 €
N2 Pizza Den Haag
mit Sauce Hollandaise, Schinken, Mais, Rucola und Tomaten
Klein(Ø26cm) 12,99 € | Groß(Ø30cm) 14,99 € | Family(46cmx33cm) 29,99 € | Party(60cmx40cm) 35,99 €
12,99 €
N3 Pizza Crazy Dog
mit Hot Dog Wurst, Gewürzgurken, Röstzwiebeln, Ketchup und Remoulade
Klein(Ø26cm) 12,99 € | Groß(Ø30cm) 14,99 € | Family(46cmx33cm) 29,99 € | Party(60cmx40cm) 35,99 €
12,99 €
N4 Pizza Italy
mit Tomaten, Büffelmozzarella, verfeinert mit Basilikum und Olivenöl
Klein(Ø26cm) 12,99 € | Groß(Ø30cm) 14,99 € | Family(46cmx33cm) 29,99 € | Party(60cmx40cm) 35,99 €
12,99 €
N5 Pizza Sucuk
mit Sucuk, Hirtenkäse, Gouda, roten Zwiebeln und schwarzen Oliven
Klein(Ø26cm) 12,99 € | Groß(Ø30cm) 14,99 € | Family(46cmx33cm) 29,99 € | Party(60cmx40cm) 35,99 €
12,99 €
N6 Pizza Cheeseburger
mit Rinderhackfleisch, knusprigem Bacon, Chili-Cheese-Sauce, dänischen Gurken, Tomaten und roten Zwiebeln
Klein(Ø26cm) 12,99 € | Groß(Ø30cm) 14,99 € | Family(46cmx33cm) 29,99 € | Party(60cmx40cm) 35,99 €
12,99 €
N7 Pizza Spice-Genuss
mit Peperoniwurst, Champignons, Zwiebeln, Gorgonzola und Knoblauch
Klein(Ø26cm) 12,99 € | Groß(Ø30cm) 14,99 € | Family(46cmx33cm) 29,99 € | Party(60cmx40cm) 35,99 €
12,99 €
N11 Pizza Oslo
mit leckeren Lachs-Stückchen, saftigem Spinat, frischen Cherrytomaten und Sauce Hollandaise
Klein(Ø26cm) 12,99 € | Groß(Ø30cm) 14,99 € | Family(46cmx33cm) 29,99 € | Party(60cmx40cm) 35,99 €
12,99 €
N19 Pizza Chicken Tikka
mit gegrilltem Hähnchenfleisch nach indischer Art, roten Zwiebeln, Paprika und pikanter Spezialsauce
Klein(Ø26cm) 12,99 € | Groß(Ø30cm) 14,99 € | Family(46cmx33cm) 29,99 € | Party(60cmx40cm) 35,99 €
12,99 €
N20 Pizza Sommer Hit
mit Spezialsauce, Käse, Vorderschinken, Cherrytomaten, Rucola und Parmesan
Klein(Ø26cm) 12,99 € | Groß(Ø30cm) 14,99 € | Family(46cmx33cm) 29,99 € | Party(60cmx40cm) 35,99 €
12,99 €
N21 Curry Wurst Pizza
mit würziger Currywurst, Currypulver und Curryketchup
Klein(Ø26cm) 12,99 € | Groß(Ø30cm) 14,99 € | Family(46cmx33cm) 29,99 € | Party(60cmx40cm) 35,99 €
12,99 €
N22 Pizza Paris-Paris
mit zartem Hähnchenbrustfilet, Spinat, Knoblauch und Creme fraiche
Klein(Ø26cm) 12,99 € | Groß(Ø30cm) 14,99 € | Family(46cmx33cm) 29,99 € | Party(60cmx40cm) 35,99 €
12,99 €
N23 Pizza Punjabi
mit Spezialsauce, Käse, Hähnchenbrustfilet in Curry mariniert, Ananas, Champignons und Zwiebeln
Klein(Ø26cm) 12,99 € | Groß(Ø30cm) 14,99 € | Family(46cmx33cm) 29,99 € | Party(60cmx40cm) 35,99 €
12,99 €
N32 Pizza Asia
mit zartem Hähnchenbrustfilet, fruchtiger Ananas, bunten Paprikastreifen und Süß-Sauer-Sauce
Klein(Ø26cm) 12,99 € | Groß(Ø30cm) 14,99 € | Family(46cmx33cm) 29,99 € | Party(60cmx40cm) 35,99 €
12,99 €
N47 Tonno Spezial
mit roten Zwiebeln, Thunfisch und gekochtem Ei
Klein(Ø26cm) 12,99 € | Groß(Ø30cm) 14,99 € | Family(46cmx33cm) 29,99 € | Party(60cmx40cm) 35,99 €
12,99 €
N65 Pizza Highlight
mit Bratkartoffeln, Bacon, Zwiebeln und Sauce Hollandaise
Klein(Ø26cm) 12,99 € | Groß(Ø30cm) 14,99 € | Family(46cmx33cm) 29,99 € | Party(60cmx40cm) 35,99 €
12,99 €
Griechische Pizza 3 items
305 Pizza Athen
mit Oliven, Tomaten und Zwiebeln
Klein(Ø26cm) 11,99 € | Groß(Ø30cm) 13,99 € | Family(46cmx33cm) 29,99 € | Party(60cmx40cm) 35,99 €
11,99 €
306 Pizza Gyros Spezial
mit roten Zwiebeln und Knoblauch
Klein(Ø26cm) 11,99 € | Groß(Ø30cm) 13,99 € | Family(46cmx33cm) 29,99 € | Party(60cmx40cm) 35,99 €
11,99 €
307 Pizza Rhodos
mit Hirtenkäse und Peperoni
Klein(Ø26cm) 11,99 € | Groß(Ø30cm) 13,99 € | Family(46cmx33cm) 29,99 € | Party(60cmx40cm) 35,99 €
11,99 €
Wunsch-Pizza 1 items
51 Wunsch-Pizza
Klein(Ø26cm) 7,00 € | Groß(Ø30cm) 8,00 € | Family(46cmx33cm) 14,00 € | Party(60cmx40cm) 19,00 €
7,00 €
Fingerfood 7 items
Kiddy-Box 1 items
Alkoholfreie Getränke 4 items
Alkoholische Getränke 6 items
Opening hours
Sunday

11:30-22:00

Monday

10:30-14:00

17:00-22:00

Tuesday

10:30-14:00

17:00-22:00

Wednesday

10:30-14:00

17:00-22:00

thursday

10:30-14:00

17:00-22:00

Friday

10:30-14:00

17:00-22:00

Saturday

11:30-14:00

16:00-22:00
Ratings and Reviews
Rated 0.0 out of 0
Map
Impressum
City Pizza Service
Pößnecker Str. 33
07318 Saalfeld/Saale
Gesetzlicher Vertreter: Jaswinder Singh
Order Pizza at City Pizza Saalfeld | Easy Delivery of Best Pizza in Saalfeld
There's no right time for grabbing a delicious pizza, if you crave for a good pizza that automatically sets the time for having one. A great pizza is so much more than just a pizza bread, sauce, cheese and toppings, it's an emotion too for a pizza lover. While pizza has always been a popular food, there's more fascination with pizza than ever, so that City Pizza Saalfeld tries out different and innovative varieties of pizzas to satisfy all pizza lovers craving for a mouthwatering pizza. So, dig into one of your favorite pizzeria City Pizza Menu, order from a wide range of delicious pizza varieties and enjoy every bite you take!
City Pizza Saalfeld offers a range of wide-spread food & beverage menu to soothe your big and small hunggers. You can treat your taste buds with the pizza delights like – Amerikanische Pizza, Griechische Pizza, Klassiker-Pizza, Pizza Hollandaise, Pizza Neuheiten and many more from a special menu for pizza. All their pizzas are made with special dough, fresh ingredients which are unique and certainly add to the scrumptious taste to the italian delicacies. Apart from some of the best pizza in Saalfeld, you can also find various dishes from pasta, Schnitzel & Gyros, salads, Finger Food,desserts and many more. City Pizza is an ideal treat for both your stomach and your soul! The pizzas here are so delicious and with each bite, you will find Italy in every bite you take.Order your favorite food in Saalfeld now online at City Pizza via Halloessen.de app or website.
City Pizza Saalfeld: Best Delivery Service Saalfeld | The top Delivery Service for Pizza, Pasta Schnitzel & Gyros in Saalfeld
If you want to enjoy a hearty meal in Saalfeld, then City Pizza is just the right place for you. Their quick delivery service and well-curated menu make it an excellent combination for a romantic dinner or a lunch at your comfort of home. If you want to savor the flavors of pasta dishes in Saalfeld, then look no further than City pizza.The menu serves some of the handpicked famous dishes from Italian and European cuisine. Such as Pizza variety, Pasta dishes, Schnitzel & Gyros, salads, Fingerfood, Überbackene Gerichte and many more which are some of the delectable dishes that are worth trying. The desserts are also super delicious on their menu. Therefore, do not hesitate to indulge in these unique preparations. Order your favorite dishes from City pizza via Halloessen.de app or website, it will be delivered to your location at the desired time. Enjoy your favorite food in the comfort of your own room.
Amount needed to reach the minimum order value
10,00 €
Unfortunately you cant order yet. City Pizza Saalfeld only delivers from a minimum order value of 10,00 €
About the restaurant
Delivery Fee
Sunday

11:30-22:00

Monday

10:30-14:00

17:00-22:00

Tuesday

10:30-14:00

17:00-22:00

Wednesday

10:30-14:00

17:00-22:00

thursday

10:30-14:00

17:00-22:00

Friday

10:30-14:00

17:00-22:00

Saturday

11:30-14:00

16:00-22:00
Delivery Times
City Pizza Service
Pößnecker Str. 33
07318 Saalfeld/Saale
Gesetzlicher Vertreter: Jaswinder Singh
Impressum
City Pizza Service
Pößnecker Str. 33
07318 Saalfeld/Saale
Gesetzlicher Vertreter: Jaswinder Singh